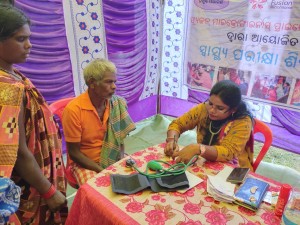 Ashapradeep Bureau:
December 2019, Umerkot, Odisha: Fusion Microfinance organizes a free health screening camp in Umarkot, Odisha in collaboration with Adruta Children's Home. Around 300 women participated in the event.
The guests who attended the event were Mr. Ramala Gond Ji (Chairman), Mrs. Lieben Bhakta Ji (Chairman), Mr. Jag Bhatra (Sarpanch) and Mr. Rayamati God (Committee Member). The guests, while appreciating the fusion effort, advised women to be vigilant about their health. In this program, some important information was given for the health of rural women, child malnutrition and lactating women by Anganwadi and ASHA workers.
In support of the 'National Health Mission' run by the Government of India, the Fusion Microfinance Company organized a free health screening camp for women and children at its operating center.
Through the camp, problems related to the health of women and children in the district were tested free of cost by gynecologists, general practitioners and other experts. After the test, different types of tests like blood sugar, hemoglobin etc. were done in the camp. Free distribution of medicines as well as nutritious breakfast was also distributed in the camp.
Fusion has not limited its responsibilities to only financial transactions, but has also continued to contribute to other social activities through its Corporate Social Responsibility (CSR) functions.
Mr. Prasanta Kumar Panigrahi (Divisional Manager), Mr. Radhakaran Biswal (Senior Area Manager), Mr. Om Prakash Satpathy (Area Manager) and all the fusion employees were present on the occasion.
Fusion Microfinance Pvt Ltd is a non-banking financial institution registered with the Reserve Bank of India. Fusion provides loans to the economically and socially deprived sections of society and the economically weaker sections of the women residing in remote villages and towns.