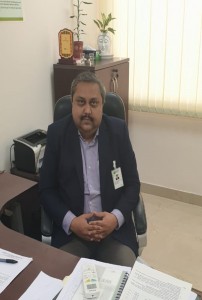 We are commissioning a super specialty, multi-disciplinary hospital with 500 bed capacity: Kamran Husain, CEO, Utkal Hospital
Interview by: Brahmi Priya Samantray & Sandeep Pattnaik
How many beds UIMS currently have? What are the management's plans for the future? There is a proposal earlier to make it a medical college also. Will it going to be implemented?
Utkal Hospital is going to become one of the largest private hospitals in the state. We are commissioning a super specialty, multi-disciplinary hospital with 500 bed capacity. Our vision is to provide world class quality healthcare at affordable price. Our core focus areas are Cancer Care, Cardiology, Neurosciences and Orthopaedics. We currently are focussed on delivering this vision for the people of Odisha. We have started the first phase of the hospital and expanding very fast. In the next few months we will be able to commission all these specialties comprehensively.
Please tell us the current scenario of the healthcare industry in Odisha in terms of patient footfalls as far as Private-run hospitals is concerned.
Population of Odisha has crossed 46 million with more than 85% residing in semi-urban or rural areas. The accessibility of quality healthcare is largely confined to the urban population due to several factors which include ignorance of health practices, cultural barriers which restrict demand for healthcare & heavy dependency on the unorganized healthcare providers. However, the major reason of inaccessibility of healthcare for the larger sections of the people of Odisha is lack of good private health facilities which are geographically accessible as well as affordable for the society at large. Utkal Hospital has plans to set up satellite centres across the state which will bring quality healthcare closer to the population residing in semi-urban and rural areas.
What is your view of 5T approach, as far as healthcare sector is concerned?
If implemented effectively, this initiative by the Government can be a game changer. I have no doubt that the larger sections of people of Odisha will benefit from this initiative, largely in areas where good quality healthcare is not accessible. The scheme is a perfect example of positive intent by the Government to improve the overall health standards of the people of the state. I am hearing some good results have already started coming in with Ambulances being replaced, training being imparted to the care givers and efficient use of IT to improve promptness in services being implemented already. Since collaborations with private sector is also being undertaken, this will give the policy a much required impetus to deliver the results it was intended to.
The state Govt envisaged BSKY scheme. But many private hospitals are reluctant to take patients under the scheme due to low tariff and long pending recovery. Do your hospital is entertaining patients under various govt-sponsored schemes?
We are empanelled under the BKKY scheme currently and from next month onwards we will also be able to take BSKY patients. The only factor which largely discourages private players to get empanelled with such govt initiatives is lack of confidence in getting reimbursed timely. Hospitals are run with very heavy operational costs, on top of that expensive medical equipment is bought mostly on loan and the only way private hospitals can survive is by ensuring that payment for services offered by them are coming on time. On the other hand, it is also the responsibility of the private hospital to ensure all procedures and processes are understood and followed correctly. Recently, the govt had assured that under the BSKY scheme, the hospitals will be reimbursed timely which has improved our confidence and I feel will also encourage more and more hospitals to participate in the scheme.
Certain Hospitals even denying to provide free 48 hours care to emergency trauma patients, though the state govt categorically specified not to charge the patients for initial treatment (48 hrs). What is your view? Do your hospital catering to the norms?
Under the Free Treatment for Trauma Fund (FTTF), the Government has rolled out a pilot project under which a few private hospitals will be offering cashless services for the first 48 hours for trauma patients. Utkal Hospital has also volunteered to be included under this project by sending a written application to DMET. We would be glad if Utkal Hospital is also part of this novel initiative. However, at the same time Trauma care at Government district hospitals must also be made efficient if we are to see any major improvement in early trauma intervention.
Say a few words to ensure better patient care provided by Utkal Hospital so far.
Utkal Hospital is the only corporate hospital where many Doctors of Odiya origin have come together and invested their hard-earned money to build a world-class corporate hospital in Odisha. The only purpose and vision of Utkal Hospital is to provide quality healthcare to people of the state at affordable price. We have one of the best patient to nurse ratios. At Utkal hospital we give great emphasis on our Nursing Care and regular training of Nursing staff is one of the activities that happens continuously here. We are the only multi-specialty hospital which has a PET-CT and Nuclear Medicine department. These are vital tools for early and precise detection of cancer. We are constantly receiving good feedback from our patients which not only is encouraging but also strengthens our resolve to continuously improve.