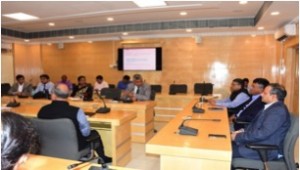 Ashapradeep Bureau: Bhubaneswar, 21st January 2020: Odisha Government has envisioned developing a Data Policy Innovation Center (DPIC) in technical collaboration with the University of Chicago. Chief Secretary Asit Tripathy directed the departments to lay out details of the proposal in a meeting conducted on Tuesday.
The proposal has been mooted under the much-touted Mo Sarakar and 5-T approaches, which aims in formation of innovative policies and service delivery through convergence with existing similar systems in the departments like Planning & Convergence, General Administration, Electronics & IT and Finance for use of 'big data'.
There is a wide scope for use of 'big data' in various sectors of Governance. The principal potential areas includes improving water and energy use policies, encouraging crop diversification through information on potential yield and farming technique, reducing pollution through predictive targeting models, improving learning outcomes, reducing distributive loss of power through strategic enforcement and behavioral changes.