Over the years, Mayadhar Parida alias Meera Parida has established a footprint for hersel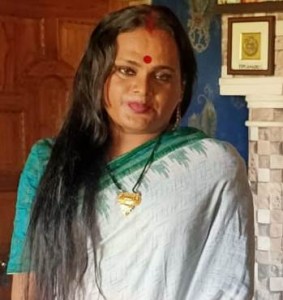 f in the society overcoming many constraints, had a lengthy fight against injustice and discrimination towards transgenders. But she didn't look back. She has earned many accolades like; first transgender to visit White House representing our Country as International Leadership Visit, Chairman Of All Odisha Third Gender Welfare Trust and runs an NGO named 'SAKHA'. Meera Parida is also one among a team of five members of the National Council for Transgender Persons, constituted by the Centre under Ministry of Social Justice. She has represented South Asia in a project 'Water for women' in 2019 to name a few.
In a recent free-wheeling chat with our Correspondent Sandeep Pattnaik of ashapradeepnews.com, she recalled a few memories about her past life. Excerpts…
Q.1. The journey of Mayadhar to Meera Parida. How was the transformation?
Ans. Life was not so easy especially for a transgender. I was born as a male. During my adolescent days, I felt some biological changes in my body. I behaved like a lady which was quite abnormal in the eyes of neighbors, my relatives. I loved to mix with ladies and my behavioral changes had an impact on my personality like using lipstick, wearing ladies costumes among others. However, I always felt that it's my personal choice how I should live my life and what I want to be. I faced many hardships in managing my livelihood; even I used to sell golgappas and papads on the street side. Though I observed certain biological changes from inside, but couldn't dare to disclose before anyone. However, a lot has changed over the years. I was the first person to disclose before media about me as a transgender.
Q.2. What prompts you to join BJD?
Ans. Biju Janata Dal believes in grass root politics. Moreover, the party has taken strides to undertake few measures for transgenders. We had tough times to manage our bread and butter for which we used to beg on toll gate, stations and even did sex work besides streets. This Government has given us scope for a decent earning through engaging our community in collection of holding tax, work with SHGs, and provided employment in Municipalities (BMC & CMC). In addition to this, the Government has kick started various skill-development initiatives for us. Now around 40 transgenders are working in ULM- Urban Livelihood Mission as Junior Assistants (JA). Also now we have got our identity through the issue of Adhar Card, Ration Card & Voter-id. Our members have also scaled heights in the society, to name a few – like Sadhna, Meghna and Aiswarya Rituparna are in a respectable position working in different sectors.
Q.3. If you are offered a ticket from other frontline parties in the next State election, will you give a second-thought about it?
Ans. I am not very keen on being offered a ticket by any party. BJD has done a lot for marginalized communities like us. I am also now Vice-President of Biju Mahila Janta Dal (BMJD). Regarding joining any other National Party, that time will say. I have not thought about that at present.
Q.4. Despite many welfare schemes taken by the Government, still Kinnars are seen doing sex-work at hotspot areas …
Ans. They are also human beings having some biological needs. Still many in our community don't have proper food and shelter to live. It compels them to do such work. Ministry of Social Justice & Empowerment, Govt. of India has taken an unique initiative 'Garima Gruha', a shelter home for transgender Persons' across India. It will help those who are expelled from their homes. Also these shelters will also provide skill training to connect the community members with livelihood opportunities. Besides, the State Government is all set to provide shelter homes for 50 Kinnars those involved in begging on streets, besides temples, parks etc.
Q.5. If you come to politics, then how will you look forward to the issues of your community?
Ans. Among the prominent issues I can say, discrimination of third-gender in schools & colleges leading to maximum drop-out happening. So we have to strengthen our education system. Then ensuring reservation of transgenders in jobs is required. These two issues need to be resolved first. Hon'ble Supreme Court through Transgender Protection Act, 2019 prohibits discrimination against them in employment, education, housing, healthcare and other services. I think now people's perception has changed towards us unlike before.
Q.6. You are also an entrepreneur. Please share something about that.
Ans. Initially I had no aim to start a business. However, I started a boutique first. Then I took finance from the Khadi Board of Rs 10 lacs and set up a paper plate factory. But still the project has failed to take off due to covid situation last year.
 Q.7. You have claimed yourself as a female now. So have you biologically transformed yourself?
Ans. I have undergone a hormonal treatment in Delhi. It is just an identity change. I am feeling myself as a feminine now. But biologically I am not a complete female. It means I can't give birth to a child like a female.