Progressive Step of Bhartiya Bhasa Andolan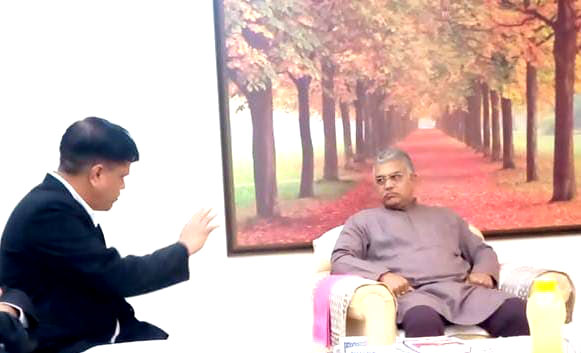 Aao mile apne sansadon ke saath : Comeon Let's meet our MPs program of Bharatiya Bhasa Andolan New Delhi …The dedicated team of Bhartiya Bhasa Andolan for about last ten days continuously meeting with the prominent Parliamentarian of this nation when on 07.12.2021 the senior leaders of bharatiya bhasa andolan lead by its National Vice President Mr.Prasanta Varma, General Secretary Mr.Asis Ray and its selected speakers met Hon'ble MP of Wardha Mr. Ramdas Tadas and had a detail discussion on the topic to work in Indian Languages in Supreme Court and High Courts when the Honble MP assured the leaders and speakers of the Bharatiya Bhasa Andolan to coperate as much as possible and to take proactive action for Marathi language in the Mumbai High Court. He also assured to raise this issue before Maharashtra Govt and also before Parliament to raise this issue.
With noble cause for Matrubhumi and Matrubhasa Bhartiya Bhasa Andolan team
also met the Hon'ble MP of Baramulla of Jammu-Kashmir National Conference Party Mohammd Akber Loan to whom including other leaders Ms.Hiteshi Kakkar, Advocate Delhi High Court appraised about the recruitment procedures across the nation in lower judiciary where knowledge in respective language is compulsory, but how the lower judiciary is not providing justice in the respective district courts despite of specific law enacted by the Parliament and lest to speak about use of indian language by Honble High Court and Supreme Court where much is required to be done and to bring specific law in this regard. The Honble MP who is a lawyer by profession assured to raise this issue also before the Parliament and will extend his support in this regard as much as possible even for proactive action for implementation of the state Language in Jammu and Kashmir High Court.
As the bold promising spirit the Bhartiya Bhasa Andolan team met the Hon'ble MP of Vijaywada who is also a Member of Parliamentary Committee (Law) Mr Raghu Ramkrisna Raju from Andhra Pradesh who assured the leaders and speakers of the Movement that he will coperate as much as possible for implementation of Telgu language in Honble High Court of Andhra Pradesh. He also assured that to raise this issue before the Parliament and Parliamentary Committee of Law.
In the magical working spirit Bhartiya Bhasa Andolan team met Hon'ble MP of Amaravati Maharashtra. Mrs Navneet Ravi Rana and her husband the Honble MLA from Maharashtra Mr Ravi Rana who was also present. Both of them assured and promised to raise the issues both in the Parliament and Maharashtra Assembly respectively for Marathi Language in Mumbai High Court.
Hon'ble MP of Darjiling and National General Secretary of Bhartiya Janata Yuva Morcha Shri Raju Bishta in the context of come Let's meet with our MPs assured the Bhartiya Bhasa Andolan team to coperate.The activist explained in detail about Justice to the citizens in their state language and requested to raise the issue before Lok Sabha for the necessary fundamental change in article 348 of the Constitution.
In a similar manner the speakers and leaders lead by prabhari of West Bengal Mr.Shankar Sinha met the prominent leader of West Bengal Mr Dilip Ghosh, Member of Parliament who assured to raise the issue implementing Bengali Language in Kolkata High Court and also to raise the issue before the Chief Minister and Governer of West Bengal.
Today Bhartiya Bhasa Andolan team also feels very much thankful to Hon'ble MP Shri Satyadev Pachari and Shri Pintu for extending their great support raising the issue of Bhartiya Bhasa Andolan in Zero Hours before the Parliament of India.
Really all things shall pass away but in this mortal world only best work(karmas) will be a symbol of humanitarian value. .In this angle Bhartiya Bhasa Andolan team is working tirelessly. All intellectual Indians shall be proudful for this marvelous work one day.