New Delhi..Bhartiya Bhasa Andolan now in the apex stage of success.They have taken the promising spirit to protest on the freedom of the languages of the country, among the people of the country, on the freedom of our country's languages. Bhartiya Bhasa Andolan team under the bold and dedicated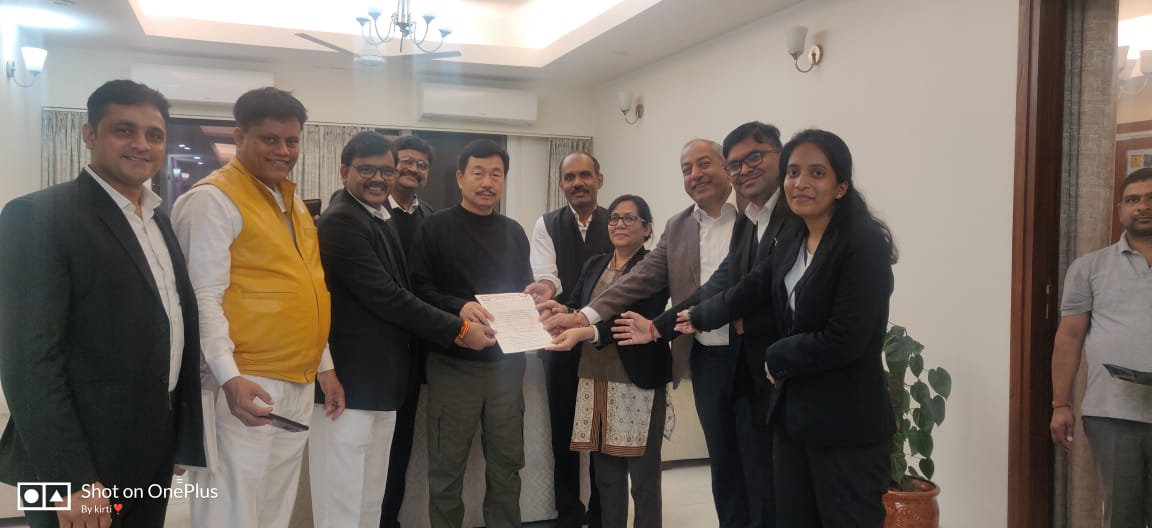 leadership of Rashtriya Adhyakshya Sri Arun Bhardwaj with able monitoring and coordination of its Rashtriya Upadhyakshya Mr.Prasanta Varma and Mr.Shankar Jha continuously urging the Hon'ble MP's through their ideal and marvelous programme "Aao mile apne sansadon ke saath : Comeon, let's meet our Member of Parliaments". The dedicated senior advocates in the society are specially engaged in the Bhartiya Bhasa Andolan team work which is the proudful path for all of us. The country shall always remember this organisation, which is continuously moving forward for the public, besides their personal professional works. As the best example of growing steps of Bhartiya Bhasa Andolan team, the Rashtriya Adhkshya Sri Arun Bhardwaj discussed the topic of Bhartiya Bhasa Andolan with Hon'ble Home Minister of the Country Shri Amit Shah and Hon'ble Chief Minister of Uttar Pradesh Yogi Adityanath.
Rashtriya Upadhaskhya Sri Prasanta Varma has said to be a part of the selected leadership and activists of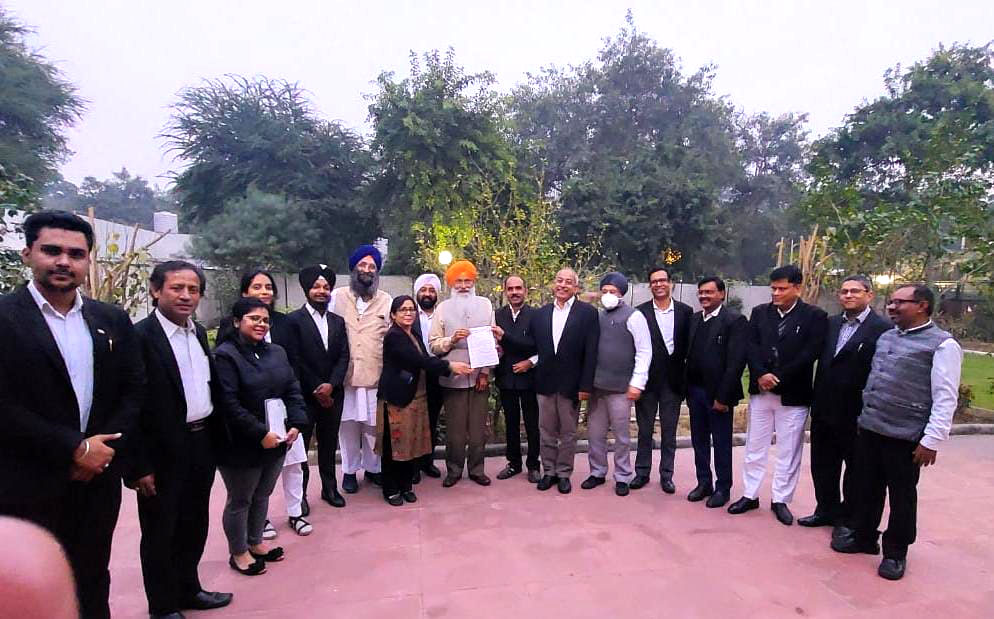 the country in the programme "Aao mile apne sansadohn ke saath : Comeon let's meet with our MPs". He also addressed that all of us have to work hard day and night, shall work as a way to provide justice to the people of the country in their language.
Really this noble endeavor of Bhartiya Bhasa Andolan team is quite proudful moment for all of us. Now the country is celebrating 75 years of independence but when will the country stand in its own language ?
In the programme of "Comeon lets meet our MPs" Bhartiya Bhasa Andolan team met with Hon'ble MP Shri Pratap Sadangi, Hon'ble MP Sri Bhaskar Rao and Hon'ble MP Sri Juel Oram and discussed this issue at length when all of them assured that they will raise this noble issue even for the State of Odisha, that is Orissa High Court to work in Odia language too and the judiciary in the nation to work in Indian Language. They further assured that soon this question will be raised in the Parliament and they will issue letter to the Honble CM, Honble Governer of Odisha to give respect to article 348 (2) of the Constitution of India and with their leaders as well to unanimously raise this issue for the public at large in Odisha.
Really due to continuous effort of Bhartiya Bhasa Andolan team, for the first time, after 75 year's of independence, the question before the Parliament became "why there is no use of Indian Language in Indian Courts including Supreme Court and High Courts ?"
Day in, day out, their are unending productive steps being taken by Bhartiya Bhasa Andolan in India which were in a protracted and projected growth and are in oriented stage. In this context the talented team of Bharatiya Bhasa Andolan met the Hon'ble MP of Haryana's senior leader Sri Deependra Singh Hooda, Hon'ble MP of Punjab Sardar Sukhdev Singh Dhindsa who said that he will make the issue of Bharatiya Bhasa Andolan in the forthcoming Punjab election too. Hon'ble MP from Kanpur Shri Satyadev Pachauri has not only assured his best of his support in the issue but has made the historical speech on this issue before Loksabha which is a hot news in the entire country these days. Hon'ble MP of Arunachal East Sri Tapir Rao desired to get the bullet points, so that he will raise the same before concerned officials, executives, Ministers and even before the Parliament of India. Similarly Hon'ble MP of (sitamadhi) Bihar Sri Sunil Kumar Pintu, Hon'ble MP of Pune and Maharashtra Sri Girish Bapat, Senior leadership of Rajasthan and Karuli Hon MP Sri Manoj Rajouria, Hon'ble MP Sardar Sukhdev Singh Dhindsa and Hon'ble MP Gujrat have assured for their total cooperation in the issue raised by Bharatiya Bhasa Andolan.
Through great enthusiasm Bhartiya Bhasa Andolan team is taking a proactive role today in the society by their noble and ideal programme "Aao mile apne sansadon ke saath : Comeon, let's meet with our MPs" from all over the country for the golden future of India.
We must implement the aanchalik and rastriya Raj Bhasa in the respective regional languages of High Courts, and also to give respect of Indian Languages before Supreme Court including the Rashtriya Rajbhasha Hindi too.
Our Matrubhumi, our Matrubhasa is great for us.We should dedicate ourselves and all of our endeavor shall be for its development. Bhartiya Bhasa Andolan team has prepared a great revolutionary base for the all round development of Matrubhasa and Matrubhumi which has a feeling that despite of our independence 75 years ago, we have not received the independence for Swa Tantra and Swa Bhasa. Thus the second independence which India is seeking now is for its own official languages.