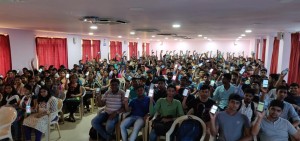 Ashapradeep Bureau:
In an effort to pay tribute to Mahatma Gandhi, National Agenda Forum, a nation-wide youth campaign launched by the Indian Political Action Committee has garnered huge support from the students of Geeta Institute of Technological Advancement through an event organized by Part Time Associates of the forum. More than 200 students were present in the event and showed their unwavering support to the campaign. The professors of the college too supported the forum.
During the event, the students focused on unemployment as the most important issue, adding that the same needed to be considered as the most important agenda in the forum. 
Indian Political Action Committee (I-PAC) launched the National Agenda Forum (NAF) as a tribute to Mahatma Gandhi on his 150th birth anniversary year on 29th June 2018. NAF is a pan-India initiative to resurrect the conversation around Gandhiji's 18-point Constructive Programme and use it to re-imagine and co-create India's priorities to formulate an actionable agenda for contemporary India.
Till date – 75,000+ youth associates from over 4,000 colleges, 273 distinguished personalities from 6 countries and 20 states, and 332 civil society organizations spread across 346 districts have joined the ever-growing NAF ecosystem.
The National Agenda Forum has garnered support from a diverse group of people and organizations, which includes:
UNESCO – MGIEP supports NAF's effort in setting thepeople's agenda of promoting peace and sustainable development based on Gandhiji's 18-point Constructive Programme
Arun Manilal Gandhi 

(Mahatma Gandhi's grandson)

, Tushar Gandhi 

(Mahatma Gandhi's great-grandson)

, and Neelam Parekh 

(Mahatma Gandhi's great-granddaughter)

Gandhians

, such as, 

Prof. Ramjee Singh 

(Freedom fighter and a pioneer in study of Gandhian thought in India), 

Dr. Ravindra Kumar

 (Padma Shri Awardee, Sardar Patel National Awardee), 

Natwar Thakkar

 (Padma Shri awardee, Jamnalal Bajaj awardee), 

Dr. D Chelladurai 

(Dean, Gandhi Research Foundation), 

Baji Mohammad

 (Freedom fighter), 

Prakash Amte

 (Baba Amte's son)

Gandhian organizations

, such as, Gandhi Smarak Nidhi, Sarvodaya Ashram, Gandhi Mission International Society of India, etc.

Recipients of civilian honors, 

such as, 

Kailash Satyarthi

 (Social Activist, Nobel Peace Prize winner) 

Shrimati Teejan Bai 

(Artist, Padma Bhushan awardee),

 Mr. Rajan Mishra 

(Indian classical singer, Padma Bhushan awardee), 

Dr. Brahm Dutt

 (Padma Shri Awardee for working for lepers), Dr. 

Usha Kiran Khan 

(Padma Shri awardee and Sahitya Academy Award winner), etc.

Eminent public servants

, such as, 

Mr. Ranjit Shekhar Mooshahary

 (Ex-Governor of Meghalaya), 

Justice NN Mathur

 (Former Judge, Rajasthan and Gujarat High Courts), etc.

Sports personalities

, such as, 

Ms. Mary Kom

 (Boxer, Olympic Medalist), 

Ms. Babita Phogat

 (Wrestler, Commonwealth Games Medalist), 

PT Usha

 (Track Athlete, Asian Games Medalist), 

Mr. IM Vijayan

 (Former Captain, Indian Football Team), 

Mr. Mohit Sharma 

(Cricketer) 

Mr. Ishwwar Pandey

 (Cricketer), etc.

Entertainment personalities

, such as, 

R. Madhavan 

(Actor) 

Mr. Piyush Mishra

 (Actor, Screenwriter, Lyricist), 

Shyam Rangeela

 (Mimicry Artist), 

Shibani Kashyap

 (Singer), 

Raza Murad

 (Actor), etc.
Currently I-PAC teams are in the process of reaching out to students in 750 colleges and 320 civil society organizations across 21 states, during our field visits.
The voting is still open; citizens can continue to become a part of NAF by logging on to http://www.indianpac.com/naf/and voting on the agenda and the leader.
About I-PAC
Indian Political Action Committee (I-PAC) is the platform of choice for students and young professionals to participate in and make meaningful contribution to political affairs and governance of the country, without necessarily being part of a political party.
Started as Citizens for Accountable Governance (CAG) in 2013, I-PAC has brought some of the best minds from diverse academic and professional backgrounds together and provided them with a unique opportunity to become a part of the election process and influence policy making in India.
I-PAC works with visionary leaders with a proven track record. In the process, the group helps them set a citizen-centric agenda and partners with them to conceptualize & implement the most effective methods of taking it to the public and gathering mass support.
For the full list please visit:
https://res.cloudinary.com/indianpac/image/upload/v1532624966/naf/support_for_naf.pdf
Also, please checks out our Twitter handlehttps://twitter.com/IndianPAC for NAF updates.